AKC has available two different registration certificates: Regular AKC registration (white certificate with purple border) and Limited Registration (white certtificate) A Newf puppy from an AKC registered litter will be eligible for individual registration with the American Kennel Club, the principal registry for purebred dogs in the U.S. When buying a puppy, you should be given either an AKC registration application with the litter number on it, or the AKC registration certificate with the individual dog's registered name and number on it, properly signed. (Certificate with orange border). Your breeder may also complete the registration process online and then transfer the registration to you. In any case, the breeder should clearly state how and when your puppy will be AKC Registered. Regular AKC registration entitles the dog to compete in all AKC and NCA events, and the offspring of a dog with full registration is eligible for registration.
On the other hand, dogs on Limited Registration may compete in all NCA and AKC events, except conformation, and their offspring cannot be registered. Regardless of an individual Newfs potential for breeding or showing, responsible breeders use Limited Registration to prevent the dog from being bred; however, the breeder can change the registration from Limited to Regular if circumstances warrant.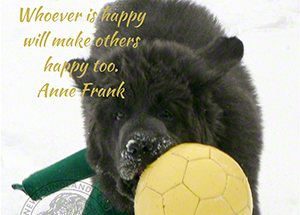 Insist that the breeder provide a written contract when a puppy is purchased. If for some reason the breeder or seller cannot provide the AKC registration application at the time of sale, a written promise of when it will be provided should be part of the contract. The breeder should also provide such pertinent data as whelping date, sire, dam, pedigree, health records, and recommended diet and feeding schedule.
The pedigree is a four or five-generation history of your dog's ancestry (a family tree). A conscientious breeder, who has spent time studying and working with the breed, should offer to explain the qualifications of the parents and why they were a proper mating. It is nice to have a Newfoundland with many champions in the first three generations, but it is even more important that the parents be of proven breeding quality. Occasionally good breeding quality dogs may not have been shown, but do produce quality puppies when properly mated.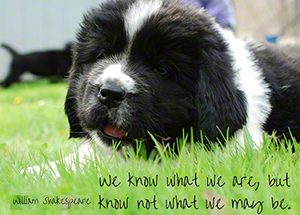 AKC registration and/or pedigree is no guarantee of the quality of the puppy. Puppies can be evaluated as possessing show potential or as pet quality, but breeders differ in their approaches to evaluating puppies. A show prospect puppy is one that possesses the potential of meeting the breed Standard and exhibiting virtues of the breed with the absence of disqualifying faults. Such show prospects may or may not make good breeding stock. A breeding quality dog, generally a superior representative of the breed, is usually determined only after the dog has matured and has been evaluated for hereditary defects. Health records are available on open databases, such as those maintained by the Orthopedic Foundation for Animals (OFA) and the NCA.
Pet quality dogs are just as enjoyable as family companions as dogs shown in the conformation ring. Usually they should be spayed or neutered. If you plan to show in conformation, discuss this with your breeder. Spayed and neutered Newfs may compete in AKC performance events and in NCA water or draft tests.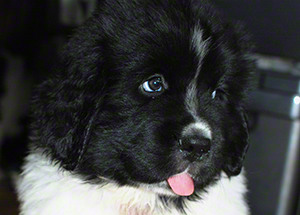 The breeder will assist you in selecting a puppy, but you should be attracted to the sire and dam of your puppy, because the puppy will probably mature to be somewhat similar to his parents in temperament, appearance, and personality. At first glance, all the puppies may look alike to you. But look closely. They are all at least a little different in looks and movement, and each has a personality all its own. Above all, choose a puppy in good health. Unfortunately, quality is only an educated guess when the puppy is only ten weeks old, and if you are interested in showing, there is no sure-fire method of selecting the puppy that will be successful in the show ring. You must allow for changes as the puppy matures.
Most Newfs go through some awkward stages, especially during the first year, and at times seem to be all ears, all legs, or awkward because of uneven growth. Be patient; most will mature to be beautiful adults. The first year the puppy will get its height, the second and third years it acquires muscle and rib spring, and the fourth year it reaches maturity.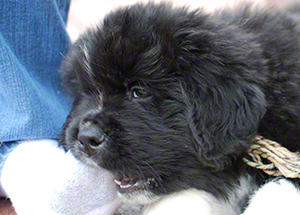 Your breeder will have a sales contract or agreement, which you should read carefully and discuss in detail before signing. Most contracts contain provisions for dealing with health problems that may develop and the care required to be provided by the new owner, such as diets and neutering. As there is much discussion and controversy concerning these subjects, the buyer should discuss these topics individually with the breeder. Also, the Newfoundland breed is subject to heart defects and other hereditary conditions. No bloodline is absolutely free of all hereditary problems, but a breeder should be ready to discuss openly any dogs in his kennel and their pedigree. All breeds have tendencies toward various hereditary defects that require consideration in choosing a puppy.
The AKC requires that breeders keep full and accurate records of their litters. All responsible breeders are interested in the progress of their puppies. If for some reason you are unable to keep your Newf, the first person you should contact is the breeder. A reputable breeder will take the dog back, regardless of the dog's age, or will find it a new home. If you find a new home for the dog, the breeder will want to have the name and address of the new owner. If you are unable to contact the breeder, the NCA strongly recommends that you do not place the dog in a shelter or rescue program not affiliated with the NCA or one of its regional clubs. In the best interest of your Newf, please contact the NCA or the regional club in your area for help through the clubs' rescue programs.
Your breeder may also microchip all of their puppies prior to placement, if this is the case make sure that you understand how to be listed on your pups microchip, and make sure to bring your microchip information to your first veterinary visit so your vet does not double chip your puppy.